AmaCello from APT River Cruises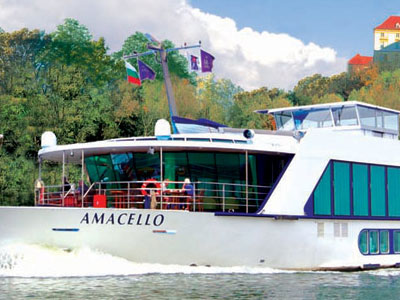 Decorated in a vibrant palette of gold and orange, the AmaCello debuted in 2008. Most staterooms feature French balconies and range in size from 170-255 sq. ft. Enjoy all the amenities of a fine hotel: plush down bedding, marble appointed bathrooms, large closets, complimentary high-speed Internet access and first-run Hollywood movies. Enjoy additional complimentary amenities such as Wi-Fi, a specialty coffee station and a fleet of bicycles. The AmaCello also features a fitness area, sauna, Sun Deck with a walking track and whirlpool, an intimate Aft Lounge and a stylish Main Lounge.
Award-Winning Dining
Enjoy several dining options in a sophisticated and stylish setting
Revolutionary Twin Balconies
This innovative design is available on most staterooms, and consists of a French Balcony plus a separate Outside Balcony for your private enjoyment
Set Your Own Pace
We specially designed "Gentle Walker", "Active Walker" and "Late Starter" group excursions to meet each passengers desired pace
State-Of-The-Art Public Areas
From gorgeous contemporary artwork to the inviting hallways and lounges, AmaCello is built to make you feel at home
Onboard Entertainment
From clasical quartets to local musicians and dancers, you're sure to be enthralled and entertained
Complimentary Bicycles
Explore the serene paths along the rivers with our very own fleet of bicycles on board
Smiling Faces On Board
Our professional and friendly staff will make your cruise a truly unforgettable one
Complimentary Internet
Stay connected with friends and family back home, thanks to your in-room computer with interenet access as well as Wi-Fi on board
Massage And Beauty Salon
Pamper yourself as you sail through Europe's most beautiful and tranquil scenery
Built:

2008

Built in:

Holland

Length:

360 feet

Width:

38 feet

Crew:

41 (European)

Staterooms:

71

Jr. Suites:

4

Ship Registry:

Switzerland

Home port:

Basel
Sun Deck

Observation Deck
Navigation Bridge
Bicycles
Whirlpool
Sun Deck
Walking Track
Violin Deck
Bow Seating Area
Main Lounge & Bar
Gift Shop
Reception
Massage & Hair Salon
Aft Lounge
Fitness Room
Cello Deck
Restaurant
Elevator
Piano Deck
Crew Cabins
Jr Suite: Violin Deck – French Balcony, 255 sq. ft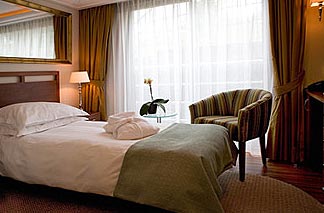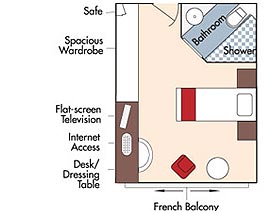 CAT. A: Violin Deck – French Balcony, 170 sq. ft.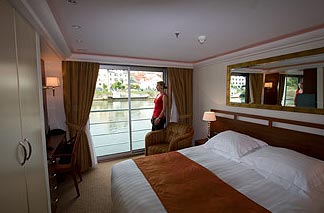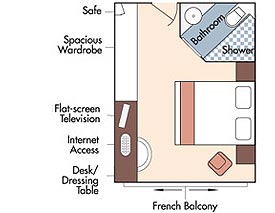 CAT. B: Violin Deck & Cello Deck – French Balcony, 170 sq. ft.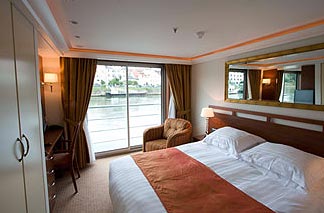 CAT. C: Violin Deck & Cello Deck – French Balcony, 170 sq. ft.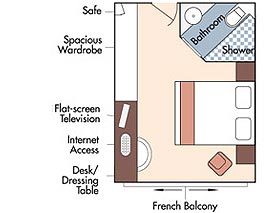 CAT. D: Piano Deck – Fixed window, 170 sq. ft.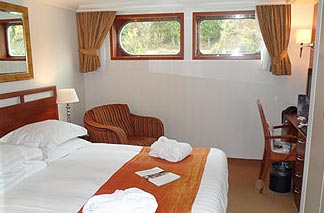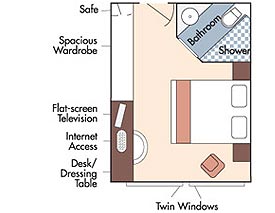 CAT. E: Piano Deck – Fixed window, 170 sq. ft.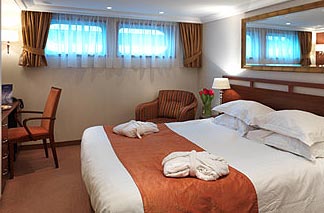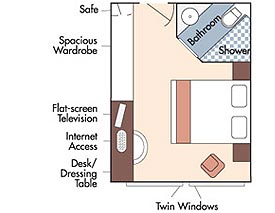 Single: Piano Deck – French Balcony, 140 sq. ft.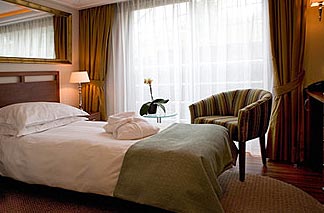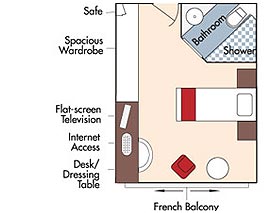 | Sailing Date | Start City | Ship Name | No. of Days | |
| --- | --- | --- | --- | --- |