America from American Cruise Lines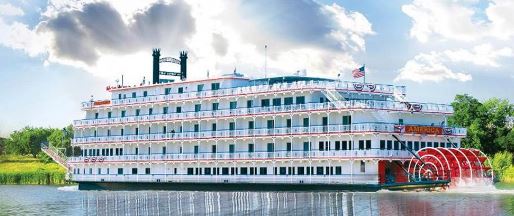 Launched in 2016 and accommodating 185 guests, the America is one of the finest Mississippi ships ever built, introducing features never before seen on the Mississippi. America embodies a casual ambience and relaxed atmosphere while providing panoramic views of the passing scenery. With only 185 guests onboard, fellow guests will quickly become new, lifelong, friends.
Accommodation.
Owner's Suite.
The Owner's Suites on America feature our most spacious staterooms elegantly furnished for your comfort. Choose between two Twin or one King size bed and enjoy the great views from your own private balcony.
AAM (Private Balcony).
These AAM staterooms are designed to offer the privacy you desire while traveling. Each room is elegantly furnished and features a walk-out balcony for unparalleled viewing.
AAC (Private Balcony).
Enjoy fine comforts and modern ammenities in our spacious AAC staterooms. Configured to maximise the space, these elegant staterooms are similar to fine hotel rooms and feature a walk-out balcony.
AAL (Private Balcony).
Relax in the comfort of our AAL staterooms that maximize space for better living conditions. Offering a large closet and an expansive private balcony, these staterooms have the option for two Twin or one King size bed.
A.
A class staterooms offer guests quiet comfort during their cruise. With seating area, writing desk and Twin size beds, these functional staterooms are ideal for river cruising.
Single (Private Balcony).
Solo travellers will find relaxing comfort in these single staterooms with private balconies. Enjoy comfortable Twin size beds, large private viewing window and spacious bathrooms.
Single.
Find modern amenities and relaxing comfort in these single staterooms. With a large opening picture window, Twin size beds and sizable bathrooms, these single staterooms are perfect for solo travellers.
Entertainment.
This state-of-the-art vessel features traditional Victoria-style accents that elegantly blend classic design with modern technology and amenities.
Seven Spacious Lounges.
Choose to relax in one of seven spacious lounge areas. Each lounge has its own unique decor and some feature panoramic views of the passing scenery.
Sky Lounge.
A welcome rest area where refreshments are served all day, the Sky Lounge is perfect for afternoon tea with sweeping views of the river.
Paddlewheel Lounge.
Enjoy panoramic views of the stuning scenery and the sight of the paddlewheel turning out the window when you relax in the Paddlewheel Lounge.
Mark Twain Library and Chart Room.
Take time out to enjoy the cozy atmosphere of the Mark Twain Library. Here you will find an assortment of charts and books to pique your seafaring curiosity.
Enrichment.
Onboard Experts.
American Cruise Lines invites carefully selected experts to join us on each of our cruises. Their informal lectures, open discussions and activities bring local history, nature and culture to life through their knowledge and passion for American heritage. These enlighteners, naturalists and historians also lead shore excursions to give guests behind the scenes insight of some of America's best-kept secrets and favourite treasures.
What is a Riverlorian? Created by combining the words river, lore and historian together, a Riverlorian is a knowledgeable person who shares the rich history and folklore of America's rivers with others.
Dining.
Dining Salon - accommodates all guests in one seating for breakfast, lunch and dinner
Breakfast is a choice of hot and cold options including, waffles, pancakes, effs, bacon, cereals as well as a self service fruit and yoghurt station
Lunch is a three course menu with choices for appetizers, entrees and desserts
Dinner is a full menu with waiter service and focuses on regional dishes and fresh local ingredients including shrimp, lobster and crab
Sky Lounge - offers an afternoon tea service including cakes, pastries, tea and coffee
There is a complimentary cocktail hour every evening
Room service is available for breakfast on a complimentary basis
Grand Dining Room.
Chandeliers and fine furnishings enhance your dining experience, but what seasoned cruisers appreciate the most is the space. The dining room comfortably accommodates all guests in one seating, so you can dine whenever and with whomever you please.
Facilities.
Disabled Facilities.
American Cruise Lines, Inc.'s ships are equipped with handicap-accessible rooms. Most ships' lounges, sun decks, and dining salons are accessible by wheelchairs or other walking aid devices. The ships are also equipped with an elevator for ease of movement between decks.
Dietary Requirements.
American Cruise Lines will work to cater any dietary needs. Please tell your cruise specialist approximately two weeks prior to your cruise so that we may plan accordingly. Refrigeration is available to store insulin or other medications requiring protection.
Dress Code.
Casual resort attire is recommended both on the ship and ashore. For dinner, men's clothing might include a sport shirt and slacks, with sport coat or sweater. Women might find a sweater and slacks, or dress appropriate. American Cruise Lines also recommends you bring comfortable walking shoes, a hat, light rain wear, and a jacket for cool evenings.
Smoking Policy.
Smoking is prohibited on the ship.
Built:

2016.

Built in:

Length:

Width:

Crew:

Staterooms:

Jr. Suites:

Ship Registry:

Home port:
America