Queen Of The Mississippi from American Cruise Lines
Built in 2015, Queen of the Mississippi offers an authentic experience with all the comforts of home. Guests can enjoy large staterooms with private balconies, hotel-style bathrooms, complimentary room service, Wi-Fi, and more. Experience breath-taking scenery from the privacy of your stateroom as the Queen of the Mississippi makes its way down the legendary river. Accommodating a mere 150 guests, Queen of the Mississippi offers an abundance of space across a number of public areas including the Sky Lounge, Magnolia Lounge, Paddlewheel Lounge, Chart Room and Library.
Accommodation.
Owner's Suite.
The most spacious staterooms, from 352 to 600 square feet, the Owner's Suite features tasteful room décor and a private balcony. Relax in comfort and style with your choice of two Twin or one King sized bed, a cozy seating area and full sized bathrooms.
AAC (Private Balcony).
Perched upon the top deck, these AAC staterooms have everything you could want in a suite. Enjoy expansive panoramic views, floor-to-ceiling sliding glass doors and your own private balcony.
AAL (Private Balcony).
On the third deck of this ship you will find these AAL staterooms. These luxury suites provide a quiet sanctuary and 300 square feet of space. Enjoy plush seating, private bathrooms with full showers and sliding glass doors that open to your own private balcony.
AAM (Private Balcony).
Enjoy spacious staterooms on the second deck that feature all the modern comforts you expect from a suite. Relax with premium bed linens, hotel size bathrooms and your own private balcony.
A.
On the main deck you'll find these category A staterooms. With over 300 square feet of space, these comfortable suites offer two Twin beds or one King sized bed, comfortable seating area and a large opening picture window.
Single (Private Balcony).
Perfect for the solo traveler, these Single staterooms feature Twin sized beds, spacious bathrooms and a floor-to-ceiling sliding glass door that opens to your own private balcony.
Single.
With spacious room and convenient amenities, our Single suites offer individuals the chance to retire to a comfortable getaway. Enjoy Twin sized beds, large private viewing windows and bathrooms with plenty of room.
Enrichment.
American Cruise Lines invites carefully selected experts to join them on each of their cruises. Their informal lectures, open discussions and activities bring local history, nature and culture to life through their knowledge and passion for American heritage. These enlighteners, naturalists and historians also lead shore excursions to give guests behind the scenes insight of some of America's best-kept secrets and favourite treasures.
What is a Riverlorian? Created by combining the words river, lore and historian together, a Riverlorian is a knowledgeable person who shares the rich history and folklore of America's rivers with others.
Dining.
Grand Dining Room - sits all guests in one sitting for breakfast, lunch and dinner. Meals on board highlight the culinary dishes of the Mississippi region and use fresh, locally sourced ingredients.
Sky Lounge - offers afternoon tea daily including, cakes, pastries, tea and coffee
Facilities.
Disabled Facilities.
American Cruise Lines, Inc.'s ships are equipped with handicap-accessible rooms. Most ships' lounges, sun decks, and dining salons are accessible by wheelchairs or other walking aid devices. The ships are also equipped with an elevator for ease of movement between decks.
Dietary Requirements.
American Cruise Lines will work to cater any dietary needs. Please tell your cruise specialist approximately two weeks prior to your cruise so that we may plan accordingly. Refrigeration is available to store insulin or other medications requiring protection.
Dress Code.
Casual resort attire is recommended both on the ship and ashore. For dinner, men's clothing might include a sport shirt and slacks, with sport coat or sweater. Women might find a sweater and slacks, or dress appropriate. American Cruise Lines also recommends you bring comfortable walking shoes, a hat, light rain wear, and a jacket for cool evenings.
Smoking Policy.
Smoking is prohibited on the ship.
Built:

2012

Built in:

Length:

90m

Width:

16.1m

Crew:

Staterooms:

74

Jr. Suites:

Ship Registry:

Home port:
Queen of the Mississippi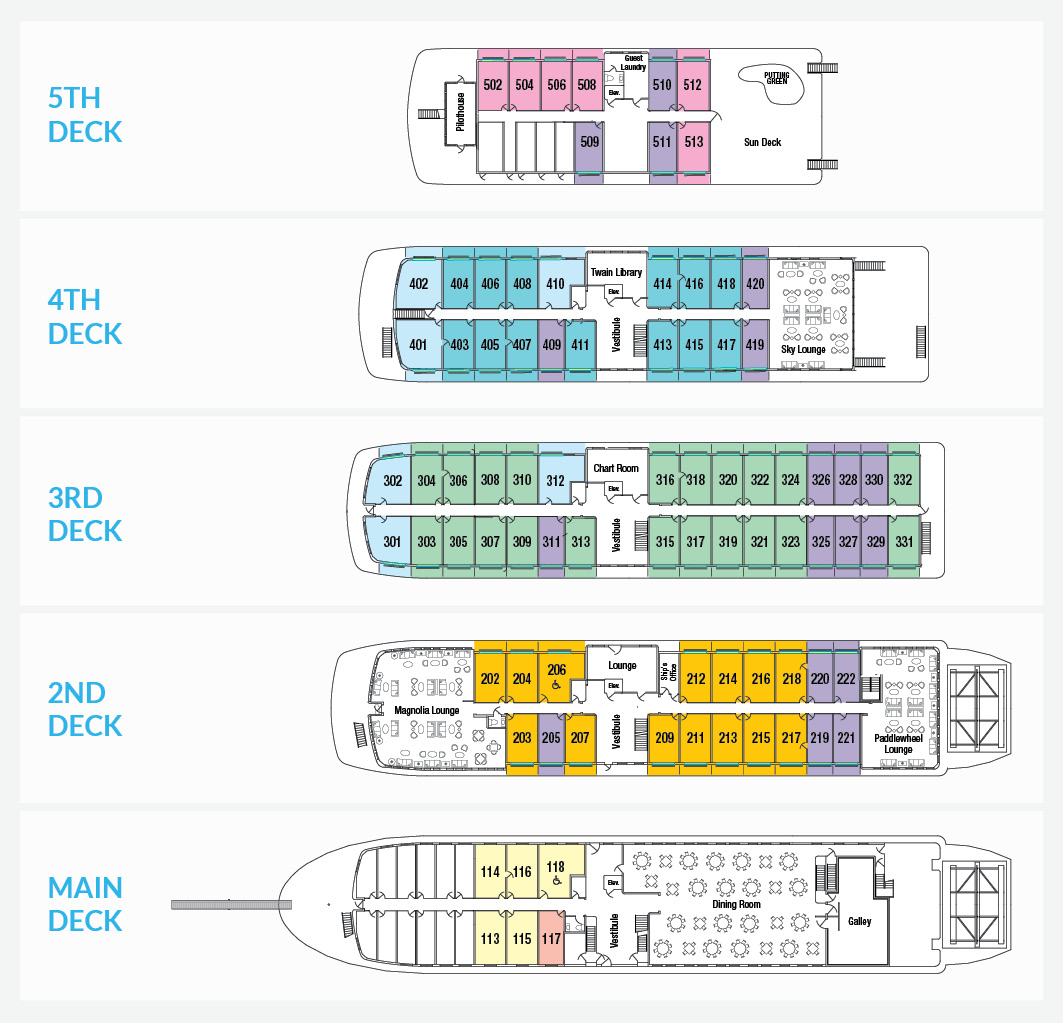 | Sailing Date | Start City | Ship Name | No. of Days | |
| --- | --- | --- | --- | --- |
| 05 March 2019 | New Orleans | Queen Of The Mississippi | 8 | More Details |
| 12 March 2019 | New Orleans | Queen Of The Mississippi | 8 | More Details |
| 23 March 2019 | New Orleans | Queen Of The Mississippi | 8 | More Details |
| 30 March 2019 | New Orleans | Queen Of The Mississippi | 8 | More Details |
| 06 April 2019 | New Orleans | Queen Of The Mississippi | 8 | More Details |
| 13 April 2019 | New Orleans | Queen Of The Mississippi | 8 | More Details |
| 20 April 2019 | New Orleans | Queen Of The Mississippi | 8 | More Details |
| 27 April 2019 | New Orleans | Queen Of The Mississippi | 8 | More Details |
| 04 May 2019 | New Orleans | Queen Of The Mississippi | 8 | More Details |
| 11 May 2019 | New Orleans | Queen Of The Mississippi | 8 | More Details |
| 18 May 2019 | New Orleans | Queen Of The Mississippi | 8 | More Details |
| 25 May 2019 | New Orleans | Queen Of The Mississippi | 8 | More Details |
| 01 June 2019 | New Orleans | Queen Of The Mississippi | 8 | More Details |
| 08 June 2019 | New Orleans | Queen Of The Mississippi | 8 | More Details |
| 15 June 2019 | New Orleans | Queen Of The Mississippi | 11 | More Details |
| 04 August 2019 | New Orleans | Queen Of The Mississippi | 8 | More Details |
| 11 August 2019 | New Orleans | Queen Of The Mississippi | 8 | More Details |
| 24 August 2019 | New Orleans | Queen Of The Mississippi | 8 | More Details |
| 31 August 2019 | New Orleans | Queen Of The Mississippi | 8 | More Details |
| 05 October 2019 | New Orleans | Queen Of The Mississippi | 8 | More Details |
| 26 October 2019 | New Orleans | Queen Of The Mississippi | 8 | More Details |
| 02 November 2019 | New Orleans | Queen Of The Mississippi | 8 | More Details |
| 09 November 2019 | New Orleans | Queen Of The Mississippi | 8 | More Details |
| 16 November 2019 | New Orleans | Queen Of The Mississippi | 8 | More Details |
| 23 November 2019 | New Orleans | Queen Of The Mississippi | 8 | More Details |
| 30 November 2019 | New Orleans | Queen Of The Mississippi | 8 | More Details |
| 07 December 2019 | New Orleans | Queen Of The Mississippi | 8 | More Details |
| 28 March 2020 | New Orleans | Queen Of The Mississippi | 8 | More Details |
| 04 April 2020 | New Orleans | Queen Of The Mississippi | 8 | More Details |
| 11 April 2020 | New Orleans | Queen Of The Mississippi | 8 | More Details |
| 18 April 2020 | New Orleans | Queen Of The Mississippi | 8 | More Details |
| 25 April 2020 | New Orleans | Queen Of The Mississippi | 8 | More Details |
| 02 May 2020 | New Orleans | Queen Of The Mississippi | 8 | More Details |
| 09 May 2020 | New Orleans | Queen Of The Mississippi | 8 | More Details |
| 16 May 2020 | New Orleans | Queen Of The Mississippi | 8 | More Details |
| 23 May 2020 | New Orleans | Queen Of The Mississippi | 8 | More Details |
| 30 May 2020 | New Orleans | Queen Of The Mississippi | 8 | More Details |
| 13 June 2020 | New Orleans | Queen Of The Mississippi | 11 | More Details |
| 02 August 2020 | New Orleans | Queen Of The Mississippi | 11 | More Details |
| 12 August 2020 | New Orleans | Queen Of The Mississippi | 11 | More Details |
| 22 August 2020 | New Orleans | Queen Of The Mississippi | 8 | More Details |
| 29 August 2020 | New Orleans | Queen Of The Mississippi | 8 | More Details |
| 03 October 2020 | New Orleans | Queen Of The Mississippi | 8 | More Details |
| 24 October 2020 | New Orleans | Queen Of The Mississippi | 8 | More Details |
| 31 October 2020 | New Orleans | Queen Of The Mississippi | 8 | More Details |
| 07 November 2020 | New Orleans | Queen Of The Mississippi | 8 | More Details |
| 14 November 2020 | New Orleans | Queen Of The Mississippi | 8 | More Details |
| 21 November 2020 | New Orleans | Queen Of The Mississippi | 8 | More Details |
| 28 November 2020 | New Orleans | Queen Of The Mississippi | 8 | More Details |
| 05 December 2020 | New Orleans | Queen Of The Mississippi | 8 | More Details |